We now have 3 free webinars available for anyone wanting to know more about the McQuaig Psychometric System. You can attend the webinars LIVE or view the pre-recorded videos at any time.
If you are already a user of McQuaig you can forward these links to colleagues. If you are new to McQuaig the webinars will provide a great overview of what the System has to offer.
LIVE Webinars – BOOK NOW
Click the Book Now button if you would like to attend. If you think your colleagues would benefit please direct them to this page.
[traininglist slug="webinar"]
Pre-recorded Webinars
Watch now or at a convenient time for you.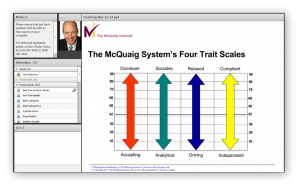 For a free trial of the McQuaig Psychometric System please contact us.