Benchmarking with McQuaig creates accurate benchmarks for your job roles to lay the foundation for a successful hire or promotion.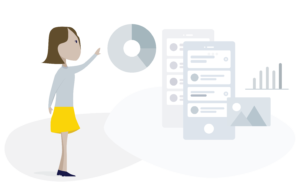 What is a job role benchmark?
To put it simply, a job role benchmark is a picture of what you are looking for in an external or internal candidate based on input from the stakeholders around the role: management, co-workers and direct reports.
It is, however, not as simple as cloning an existing employee. You will never find the same person twice, and even if you did, the chances are they wouldn't get along. When putting together a team, it is the diversity within it that leads to creativity, innovation and productivity. Too much of a good thing can result in a stagnant echo chamber.
Why is benchmarking so important now?
Over the last 18 months, jobs have altered, disappeared and morphed into something else entirely. While some weaknesses have been exposed, strengths have also come to light. The return to the office and a permanent move to hybrid working means that employers should look at how well their people match their job roles and evaluate what they need as we move into the future.
The end result of a job may still be the same, but in a hybrid workplace the personality and interpersonal skill set it needs may be different. Perhaps that individual needs to be more independent and more driven. Maybe they need to have greater resilience when under pressure, or be able to manage their motivation when working alone. That person who thrives on the watercooler chat with colleagues it's going to struggle when alone at home or if only half the office is in at any one time.
Now is a good time to objectively benchmark your job roles to avoid making hiring and promotion mistakes that will be difficult to live with. Instead of digging out that job advert and job description from 2019, sit down with a fresh template, an objective mindset and start again.
The language of benchmarking
It's easy to fall into the old habits of recruitment, especially if this isn't what you do every day. Applying a benchmark process to your hiring plan of action gives you the opportunity to use different language to attract the right candidates.
This is a part of the process that is often overlooked and prevents potential good candidates from applying. For instance, research from academics Gaucher et al found that job descriptions with masculine wording alienate female candidates because they were not attracted to organisations who appeared to be biased towards men. This wasn't because they didn't feel up to the job, but because they chose not to apply to that type of workplace environment.
Benchmarking helps hiring managers to have a more inclusive approach to the language of recruitment in order to be attractive to the widest possible pool of talent. In a competitive talent marketplace, every employer needs to put itself at the top of a candidate's workplace wish list.
Benchmark Management from McQuaig Labs
McQuaig users can benefit from the latest development in the suite of tools from McQuaig – Benchmark Management.
At the moment this is a beta tool available through McQuaig Labs to McQuaig users on request. The tool allows users to easily create job profile benchmarks by inviting stakeholders and top performers to give their input. This goes towards setting benchmark scores, and helps the recruiting manager to visualise the alignment and any gaps in the team. McQuaig users have long been able to complete Job surveys and create internal benchmarks. Now that piecemeal process is contained in a powerful and easy to use workflow within the McQuaig Benchmark Management tool.
Explore the benefits of McQuaig Benchmark Management in your organisation. Contact us on 0203 111 9292 or via hello@weareholst.com.
Subscribe below to our newsletter, sent by Holst, the EMEA distributer of McQuaig tools and products.