The 2021 McQuaig Global Talent Report gives the insights to make more accurate predictions about how to hire and develop your workplace in the post-pandemic era.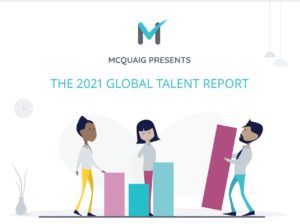 Earlier this year, the McQuaig Institute conducted a global survey to learn how HR/talent industry professionals adapted to the pandemic, the strategies they used and what they intend to retain in the future. The areas of focus were:
The pandemic's impact on the talent industry
Hiring and recruiting changes
Employee development and leadership development shifts
Diversity, equity, and inclusion initiatives
The aim of the subsequent report is to help HR professionals make accurate predictions about the best ways to hire and develop their people into the future. Which of the responses to the pandemic are here to stay and what trends are on the horizon?
Key highlights of the 2021 McQuaig Global Talent Report
46% of respondents saw positive change within their organisations as a result of Covid-19
25% increase in employee resilience training with 68% planning to continue resilience training beyond the pandemic
43% of respondents reporting a hiring increase as we move towards stability
An increase in the importance of hiring for culture fit
Only 30% of respondents had a remote element to their hiring process before Covid-19 and just 4% want to return to pre-pandemic hiring methods
47% increase in prioritising a positive working relationship between managers and employees
42% of respondents are more concerned about succession planning with 35% of companies aiming to better develop their potential senior leaders
37% increase in team effectiveness training for managers
Concluding takeaways of the 2021 McQuaig Global Talent Report
Remote recruiting is here to stay. All bar 4% plan to retain some element of remote hiring as part of their recruitment strategy. The improved and wider use of technology has reduced hiring timescales and increased accessibility. It's hard to see how this can be bettered by a return to in-person recruitment.
Cultural fit is golden. The organisations that have thrived through the pandemic are those with high-performing close-knit teams. Leaders must continue to focus on workplace relationships to encourage employee loyalty, accurately identify potential, focus on soft skills and consider team composition at the point of recruitment
Assessments have become more important in the hiring process. The remote nature of online assessment has proved fit-for-purpose during the pandemic. The need to better understand candidates and their interpersonal skills in remote settings is more important than ever. Without the unconscious bias of hiring-in-own-image' pitfalls of in-person interviews, organisations may see improvements in their diversity.
Stronger focus on leadership and teams is an important feature of the survey results. We're seeing a significant focus on team and leadership development training to strengthen workplace relationships.
No one saw the Covid-19 pandemic coming and the changes that it brought with it will have a long-lasting impact. We believe the future is bright. From how we work to the tools we use, the pandemic has opened eyes to new ways of working together while apart. It has the potential to increase diversity in our teams, strengthen workplace relationships and make for a better work-life balance. HR professionals are more important than ever before to make this potential outcome a reality.
Subscribe below to our newsletter, sent by Holst, the EMEA distributer of McQuaig tools and products.