Solihull ISMM Business Success Seminar 12th September 2013
Do you own, manage, or influence the future of an SME? Do you need to develop your potential and improve performance?
Take time out from doing business to join us at the Institute of Sales and Marketing Management's Business Success Seminar on 12th September 2013 from 6.30pm.
Why should you attend?
Improve your knowledge and skills
Network with other sales professionals
Access the latest tools and techniques
Build new business contacts
Have an enjoyable, thought-provoking evening.
Get your free psychometric profile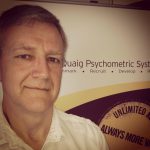 Richard Yelland from the McQuaig Psychometric System will be on hand to meet local sales professionals and understand their sales recruitment cycle. Please take a moment to visit him as you enter the event. You are welcome to complete a free psychometric profile and find out how McQuaig can add value to your business – guaranteed!
Click here for more information about the ISMM and to register for the event
Learn from great speakers
Join us to hear two expert speakers Andrew Brammer and Steve Head give us their strategies for sales and marketing success.
Andrew is a noted storytelling coach, using storytelling techniques to deliver memorable messages. Steve's session promises to be hugely energetic and entertaining as well as thought-provoking.