Course Information
Course Size:
Maximum 6 participants
This trainer certification will qualify you to train Effective Teams with your people.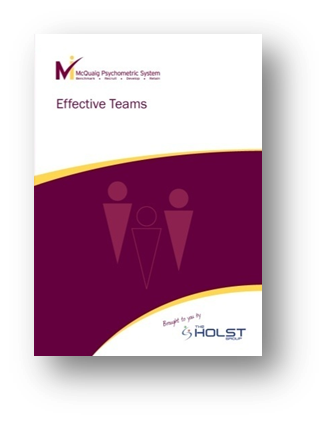 As a bonus you will automatically qualify as a certified trainer for our Effective You workshop too.
Effective Teams is a great forum for your individuals, teams and leaders to increase their self-awareness and work more effectively. The McQuaig Psychometric System is the engine driving insights about personality strengths, working preferences and impact on those around you.
This two-day course begins with the full version of McQuaig Effective You! & McQuaig Effective Teams, followed by intensive training in their presentation, practice and facilitation.
This will enable you to become a certified Effective Teams trainer skilled at creating the learning conditions for your teams to excel.
Course Objectives
:
Experience full version of Effective You! and Effective Team courses.
Become a competent Effective You! and Effective Teams trainer.
Be able to support the people in your organisation at different levels:

Individuals:

Enable individuals to successfully

develop

using their McQuaig Self-Development Survey.

Help individuals

understand

their temperament strengths and considerations as well as their McQuaig profile.

Identify potential

actions

and how to support personalisation of these actions to be meaningful to the organisation, team and individual involved to enable them to be the best they can be.

Teams:

Support teams to

understand

the variety of temperaments existing within their team.

Work with team to identify how temperament influences people's working preferences.  

Facilitate

team development through action orientated tasks to gain a tangible insight on how best to work with those different to themselves to evolve the team from a collection of individuals to a high performance team.

Identify

team temperament dominances and diversity to show potential team temperament gaps to refine inter-departmental ways of working or even future recruitment strategies.
What to Expect:
To experience the day as an Effective You! and Effective Team delegate prior to spending a day with a certified McQuaig Master Trainer.  This approach helps you gain a solid grounding in the Self Development Survey® as well as how other McQuaig tools can be used to enhance your understanding of individuals, teams and leaders as a Development Facilitator. Participants will work in small groups and be supplied with comprehensive training materials.
The Benefits:
You will become a certified Effective You! and Effective Teams trainer certified to independently run these courses in-house.
Copyright info:
The McQuaig name is owned by The McQuaig Institute of Executive Development.