First ever Level 3 Advanced Interpreter Training a huge success!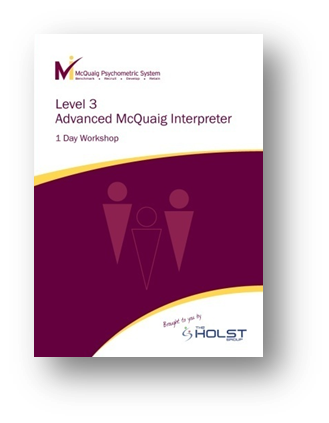 Senior Associate Mike Edwards ran the first ever Level 3 Advanced Interpreter training at Henley Business School, Henley on Thames, Oxfordshire on 14th June 2012.
Delegates were stretched and challenged as their interpretation skills were tested to their limits. A key benefit of the day was the opportunity to share ideas and network with other business leaders.
Level 3 Advanced McQuaig Interpreter training is designed to:
Provide Interpretation skills to a Level 3 standard
Share tips for managing tricky profiles
Highlight the implications of traits on day to day performance
Level 3 Advanced McQuaig Interpreter training is part of the McQuaig Psychometric System.
According to our Managing Director Iain Chalmers:
"What sets the McQuaig Psychometric System apart from other psychometrics is the sheer value provided to our clients. The McQuaig Psychometric System provides the user with up to 18 straightforward, easy to read reports, across 6 tools and includes training! This is all part of the McQuaig Unlimited Access Package.

"No other provider is coming close to offering such value for time and money."
The McQuaig Psychometric System has been reviewed in depth by the British Psychological Society and been awarded the 'Quality Mark' from the Psychological Testing Centre (PTC). Click here for the review.
With the McQuaig Psychometric System you can:
Benchmark a role internally
Recruit to the requirements of that role
Develop your people based on their strengths
Retain your stars
Our clients tell us they also use the McQuaig Psychometric System to:
Recruit the right people for the job
Identify people for promotion
Provide career guidance
Undertake team audits
Assess morale
Understand team dynamics and resolve issues
Build a new team
Support personal development
Profile the organisation
Identify motivating factors
Whatever way you choose to use the McQuaig Psychometric System, your organisation you can be assured that decades of ongoing research has gone into each of the tools giving you the powerful results you are looking for.
N.B All psychometrics in the UK market should be registered with the British Psychological Society to state they meet to minimum psychometric requirements for use as a psychological test.
To learn more about the McQuaig Psychometric System visit www.mcquaig.co.uk or call 0203 111 9292.
Book on the next Level 3 training workshop below or click here to for our other training workshops.
[traininglist slug="level-3-advanced-mcquaig-interpreter-training"]