McQuaig Training. Get the most from your Psychometric Test! 
Our McQuaig training will help you get the most from your psychometric test. It includes our technical  interpreter training as well psychometric test based development training . We also offer a wide range of Learning and Development courses. You can find out more on our website for Holst.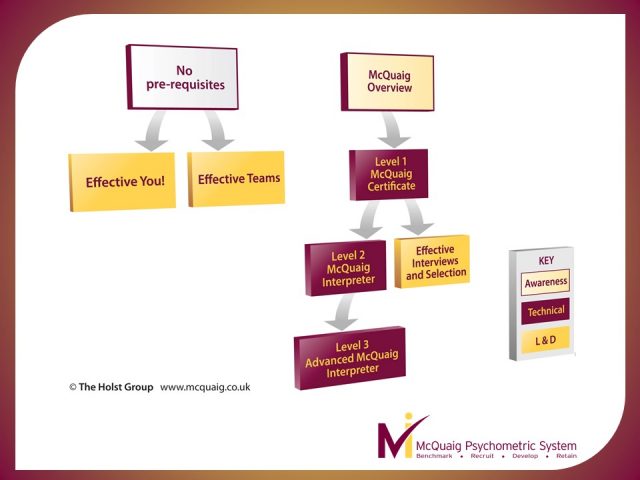 We offer in-house and public workshops. Our public workshops are spread across the UK  for your convenience.We only use first class venues  and lunch and refreshments are always included on our public workshops.
Our talented team of trainers are patient, friendly and care about your learning experience. They are there to support your learning journey and answer your questions. You will be provided with full learning aids and materials with plenty of hints and tips you can take back to the workplace.
When you attend our public workshops you will have the opportunity to network with people in a similar situation to yourself. You can share ideas and learn from each the experiences of each other.
Our Unlimited Access  customers enjoy included interpreter training benefits. Speak with your McQuaig representative today to see if your organisation qualifies for included training for your psychometric test.
We also offer free refresher training  to all our Level 2 McQuaig Interpreters. This way you can make sure your interpretation skills stay sharp. You can choose from our extensive list of training dates  for one that suits you.
Our objective is to support your use of the McQuaig Psychometric Test in your organisation. When we train you well, your confidence with the tools grows. The more confident you are the better the return on investment for your organisation.
We are here to help! If you would like to speak with someone about your training options please call us on 0203 111 9292 and our friendly team will be happy to help you get the most from your psychometric test.