What to expect from McQuaig Interpreter Training – Infographics

How often have you dreaded a training course? Prepared yourself to be frustrated at best, bored at worst? We've all been there, done that. But we promise McQuaig Interpreter training is very different.
McQuaig Interpreter Training
For starters, you'll actually learn something that you can use the next day.  You'll learn hard facts about the McQuaig Psychometric System and how to use it in your recruitment, retention and developments strategies.
There's nothing dry about our workshops.  Our trainers are not only experienced trainers but also highly skilled interpreters themselves, often assisting clients directly with 'tricky' profiles.  They have plenty of real life industry wisdom to share with delegates.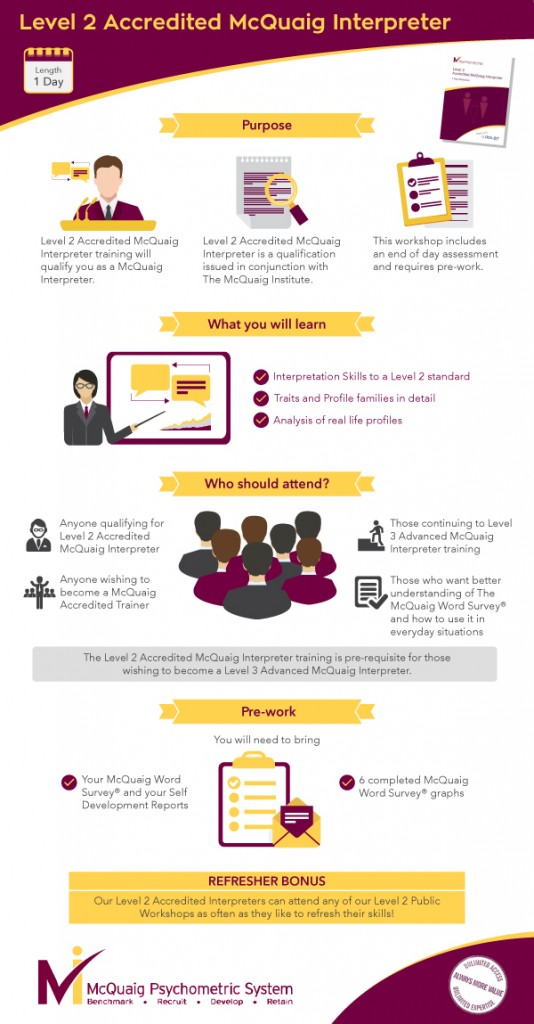 It's a three stage process:
Most McQuaig users choose to take the Level 1 and 2 workshops 6-8 weeks apart.  This allows the user to get a good feel for the system after Level 1 and develop some great questions to ask during the Level 2 workshop – our trainers love a challenge!
In addition, we offer Refresher places on our Level 2 workshops.  Just in case you need to sharpen up your interpretation skills.
Lastly, we pride on using wonderful venues that deliver a great lunch, so really it's all win-win!
Here are are two infographics we've produced to illustrate McQuaig Interpreter training.    Download, print, pin, share them – up to you!  We really hope that you'll join one of our workshops soon – find a date near you.
To find out more about the McQuaig Psychometric System visit www.mcquaig.co.uk or call 0203 111 9292.