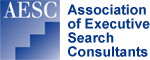 TORONTO, ON, May 11, 2012 – The Association of Executive Search Consultants (AESC) announced a partnership with The McQuaig Institute® making the McQuaig Psychometric System, a world-class, validated assessment tool, accessible to members of the AESC and members of its executive career management service, BlueSteps.com.
Glenda K. Brown, Managing Director of the AESC commented:

"We are very pleased to present the McQuaig Psychometric System to our executive search consultant members. McQuaig's assessment tools are highly rated, quick and efficient to use and offer support to our members as they assess and help recruit talented executives for their client organisations."

"Additionally, the McQuaig Psychometric System will be made available to our BlueSteps members – 70,000 senior executives from around the world. Access to self-assessment tools through The McQuaig System™ is yet another benefit we provide exclusively for top executives who wish to proactively manage their careers while making themselves visible to our AESC search firm members."

Ian Cameron, Managing Director of The McQuaig Institute commented:

"We are delighted to have been selected as a pre-employment assessment tool for use by the AESC. We look forward to continuing to assist leading executive search firms help their clients better define ideal candidates and, to assisting executives in the critical task of self-assessment".
About The Association of Executive Search Consultants (AESC)
The Association of Executive Search Consultants (AESC) is the worldwide professional association for the retained executive search industry. The AESC's mission is to promote the highest professional standards in retained executive search consulting, broaden public understanding of the search process, and serve as an advocate for the interests of its member firms.
For more information, or to view the AESC Code of Ethics and Professional Practice Guidelines, visit www.aesc.org. The AESC also offers CorporateConnect, a service for the HR community offering executive search industry information and access to the AESC membership.
About BlueSteps
BlueSteps.com is an online career management service for top executives around the world. As an exclusive service of the Association of Executive Search Consultants (AESC), BlueSteps enables senior-level executives to be visible to over 8,000 AESC member executive search professionals who use BlueSteps to locate candidates.
BlueSteps also offers career management content and tools tailored for top executives. For more information, please visit www.bluesteps.com.
About The McQuaig Institute
The McQuaig Institute offers pre-employment assessment tools helping thousands of clients worldwide measurably reduce turnover and increase staff productivity and engagement. Founded 45 years ago by Industrial & Organizational Psychologist Jack H. McQuaig, the McQuaig Psychometric System is a highly validated tool exceeding EEOC and BPS regulations, and proven to deliver bottom line results.
For further information, please contact:
Holst
0203 111 9292
info@mcquaig.co.uk
www.mcquaig.co.uk