Stress and the McQuaig Temperament Scales (part 1)
In this two-part blog we will explore how a person's underlying temperament impacts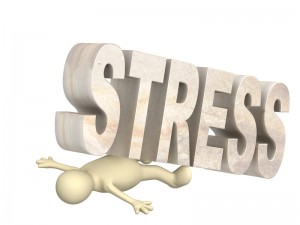 their levels of stress in the workplace. We will also explore how the McQuaig Psychometric System can give you insights into how a person is likely to perform and what situations may create stress for them.
The International Stress Management Association (UK) highlights the many costs associated with work-related stress. www.isma.org.uk/about-stress/facts-about-stress
Stress has become the most common cause of long-term sickness absence for both manual and non-manual employees, according to the CIPD/Simplyhealth Absence Management survey.
 CIPD Survey October 2011
British businesses lose an estimated £26 billion each year in sickness absence and lost productivity. With greater awareness and mental health support, they said businesses could save one third of these costs – 'a mammoth £8 billion a year'.
 Mind June 2011
According to self-reports, consistent stress is the second most commonly reported work related illness . Labour Force Survey.
In 2009/10, 435,000 experienced stress caused or aggravated by their work
. Labour Force Survey
In 2009/10, an estimated 9.8 million working days were lost through work-related stress. Every person experiencing work related stress was off work for an estimated 22.6 days which equates to 0.42 days per worker.
 HSE
Stress and chronic ill health in the workplace costs £100bn
. Dame Carole Black, ISMA Conference 2009
While time demands and balance-of-life issues have been cited as two of the many sources of stress, a person's fit with a job role can also create stress.
We will explore two of the four McQuaig scales:
Dominant<>Accepting
Sociable <> Analytical.
Below is a list of the common activities that people with different McQuaig traits will find stressful.
Dominant Scale
People high on the Dominant Scale are goal-oriented and like to win. They will find stress in activities where:
Consensus needs to be reached before moving forward
There is not a clear link between their personal goals and team goals
Someone else is in charge
Accepting Scale
People high on Accepting Scale are supportive team players. They will find stress in activities where:
They have to confront others
Risky decisions need to be made
The team is pulling in a number of different directions and compromise will be difficult
Sociable Scale
People high on the Sociable Scale are extroverts who enjoy interacting with people. They will find stress in activities where:
They are required to work on their own with little interaction
Unpopular decisions need to be made
They need to perform detailed analysis before moving forward
Analytical Scale
People high on the Analytical scale are logical and task-oriented. They will find stress in activities where:
People frequently interrupt their work
A great deal of interaction with others is required
They are expected to be overly enthusiastic
While a broad range of factors may contribute to an individual's stress levels, important attention needs to be paid to the nature of the work itself. Any one of us, in a role that we are not temperamentally suited, will feel anxiety, under perform and may eventually leave.
Would you like more information on how the McQuaig Psychometric System can help manage workplace stress? Email: hello@weareholst.com or call 0203 111 9292
About the Author:

Michael Gravelle is a consultant for The McQuaig Institute. In addition to being featured in The Globe & Mail and Profit Magazine, he has written numerous articles on selection and assessment for such publications as The HR Professional, The Canadian Retailer and The HR Reporter.