Two independent research reports have identified Berkshire, with Reading and Bracknell being highlighted in particular, as the top counties to do well during this period of economic recovery.
"There are a number of reasons why Reading and Bracknell are positive places for companies to base themselves and these will be discussed within this article," says Sarah Stoker, Managing Director of specialist recruitment and retention agency Ocean Consulting. "We know that job vacancies in these locations are applied for by qualified people with excellent skill sets which means employers get the right people first time."
The Work Foundation, a non-profit organisation who are a leading authority on work and it's future, recently produced a 'No City Left Behind' report which offers advice to the coalition government on how they can manage the geography of recession to ensure that failing cities benefit from the economic recovery. They identified a number of factors which have helped successful cities make it through the recession and will help them benefit from the recovery.
These include:-
Creative industries working and recruiting in the city. Creative industries include advertising, architecture; art and antiques; designer fashion; video, film and photography; computer and video games; music; visual and performing arts; literature and publishing; television and radio. The UK has the largest creative industries sector in Europe and as these industries tend to employ the highly skilled, they tend to locate in cities with highly skilled populations.
High tech and high-value added networked services are located in the city. These industries include knowledge intensive high-technology services plus market research and public opinion polling, business and management consultancy, labour recruitment and provision of personnel
Cities which are home to "manu-services" where manufacturing and service activity become interlinked. These are companies using high-technology manufacturing and high-technology knowledge intensive services.
"The report concludes that those cities with the above factors plus cities that do not rely too greatly on public sector employment are the most likely to make a successful recovery from this most recent recession. Reading and Bracknell top the list of cities likely to do well in the recovery and we are delighted to be providing professional recruitment services to companies within this area," says Sarah.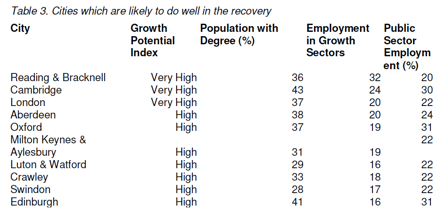 Another study, this time carried out for the BBC, has found that Bracknell, with its links to Heathrow and London, boasts the highest number of foreign-owned businesses in England. With its close links to Heathrow and London, and lower rents and rates compared to the capital, many companies have moved into the town, including global firms like Fujitsu, BMW, Dell and Novell.
"Being close to the M3 and M4 motorway network, boasting fairly reliable rail links and our ability to provide highly qualified staff makes the Thames Valley area a perfect place to set up a business," says Sarah. To obtain a FREE copy of the full Work Foundation report-  please email Sarah Stoker at Ocean Consulting on sarah.stoker@dipintheocean.co.uk.