Have you ever wondered how it would feel, to concentrate purely on the things you love about your job and leave the rest to others?
An extremely successful corporate manager once described her career to me as 'delegating to the point of redundancy'. Imagine if each day you could arrive at the office and focus all day on what you do best; safe in the knowledge that the show was running like clockwork, thanks to the efforts of your team? This can indeed be a reality, but only if know where the strengths in your team lie.
I ran a LinkedIn poll to find out how line managers in different departments were using psychometric assessment.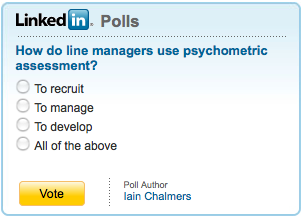 The results show that departments arguably most in the firing line (Business Development & Marketing), are the least likely to use the psychometric tools to improve management skills or develop high ranking staff.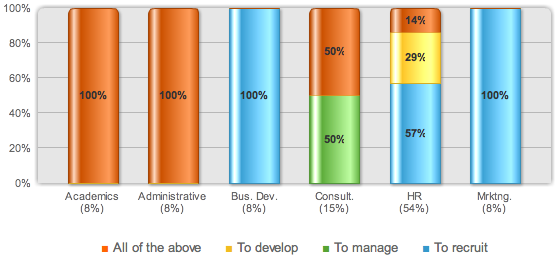 We can also see that independent Consultants, usually brought in to enhance productivity and teamwork, value psychometric management tools (50% support). HR departments, central to hiring and firing, believe psychometric development tools to be key (29%) – surely this a positive progression to follow?
Using management and development tools a line-manager can fast track to a deeper understanding of behavioural patterns within their team. This will create better balancing of team work loads and focus on an individual's strengths rather than weaknesses. Likewise, the performance of a team that is correctly understood will naturally optimise, leaving a line-manager more time to relax!
In brief, a psychometric assessment package should:
Deliver one set of rules to the employee: Their line manager will motivate and coach them on the same set of behaviours they were recruited against. Using these behaviours they can then develop their strengths and manage their developmental areas.
Teach a common language to the line manager: Learn one system once. Get to know and trust a tool like The McQuaig System and the line manager will get the best from their team.
Create succession planning for the organisation: Use one system to recruit, manage and develop staff. The organisation can better measure strong performers and plan future recruitment and promotion strategy.
To generate better ROI, psychometric assessment can, and should be implemented across an employee's lifecycle.
Do you use psychometric assessment for more than just recruitment ?  Please leave your comment below.